About a year ago I did a review for the introductory HD video camera the Sony Bloggie PM5, and if you had an eagle eye, you could notice my mid-range Panasonic HSC250 on my desk in the video. At that point my intent was to do a review showcasing the difference in quality between a $149 entry-level camera and a mid-range $500+ HD handheld camera, but decided to hold off until I had some excellent footage that really showcased that awesome camera. Between then and now with one two many ill-advised trips to a conference floor, I no longer have said mid-level camera. Ooops! Now in the market for a new mid-range, I decided to roll over to B&H Photo in NYC to check out the offerings. Knowing my odds of finding the same camera there a year later for the same price (a steal at $499 at the time) were slim-to-none, I looked at the offerings in the Panasonic line.
Right off the bat I was amazed at the penetration of 3D in the handheld consumer market. Each one of the Panasonic cameras boasted of the ability to shoot in 3D with an optional lens, having seen the quality of the hsc picture, my mind raced of what the possibilities could be. I asked for the rough equivalent to the HSC250 from the new line and the sales rep pointed me to the the TM900 with its 3-chips and 32gig onboard flash memory.
You see, one of the great things about the HSC250 was that it came with a built in hard drive with 120gigs storage and even better it had 3 CMOS chips (one for red, green, and blue for enhanced picture quality) the new solid state flash drive cameras were just out and they were clearing inventory (which explained the awesome price…tear), anyways…for those non techies reading this, the 3 chips allowed you to shoot better in low light situations and a truer color fidelity since each color was processed on a separate chip.
While the TM900 is a beast of a machine, it's price ($899 on sale at the time of this writing) was a bit out of my spend range. You see, after having the HSC250 for about a year, I realized what my real usage rate of the video camera would be (I'm 90% photographer, 10% videographer) made me hesitant to outlay that sort of money for something I would use sparingly despite its awesome toolset. Given my previous purchase at $499 I was adamant to find something in that range.
Lo and behold sitting next to the TM900 was the sexy SD90! Immediately attracted to its small build (very similar to the hsc250, the TM900 is a bit more bulky) I quickly inquired about this machine sitting at less than $450! My heart sank when I found out it did not have 3 chips and no internal HD (don't know why I want a hd… maybe its the old school in me! *note there's a flash hd version for $50 more). But something kept telling me to grab this camera and run for the hills. The BH reps did their best to sell me on the awesomeness of the TM900, but for my purposes (doing review vids and the random artsy fartsy vid on Vimeo) I just felt the SD90 would cut the mustard.
Then I did something I rarely do. I purchased the SD90 without reading a single online review in-store. I felt at ease with Unit reminding me that I don't need a hard drive. I can get a 16gig or more SD card for less than $30 and swap as needed (although i can't imagine shooting more than 2hrs of video at any one point). On my way home I felt a little buyers remorse due to my lack of research, but my faith in the Panasonic video camera brand was true and I looked for a silver lining (price and form factor).
Boy was I relieved when I got home to realize that the SD90 has gotten glowing reviews almost universally from reviewers and consumers alike! Turns out that the camera functions quite handsomely in low-light situations and the color fidelity is spot on due to a great lens included. You will have to be VERY picky to find fault with this camera. Plus its not like you're aiming to shoot Avatar 2 on it! I'll post some test footage (I pinky swear) as soon as I can so you can see the great quality on this thing.
Build Quality
The SD90 takes its stylistic cues from the rest of the Panasonic handheld line and to me it's perfect. It fits comfortably in the palm of your hand and at a heft of about half a pound it feels just right. Honestly it doesn't feel as sturdy as the HSC250, which incorporated more metal, this cam feels like it can take a light drop or two (not advised) and still keep rocking. Although, I did notice that the tail got a little warm while in operation. (This is to be expected when you are grabbing 1920×1080 video ;0) There's a slot for a shoe (for accessories such as a light or mic although they need their own power source as this isn't a hotshoe) that when engaged hangs a bit off the end of the camera. I do not have a mic yet to test how sturdy this feels but it looks sufficient.
Key Features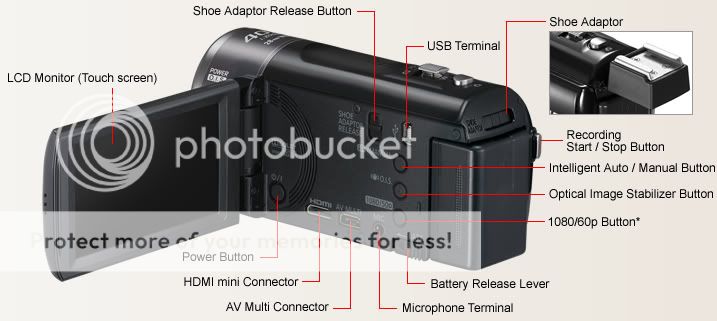 The key feature for me has to be the picture quality. Video cameras are made for capturing moving images and it lives up to that quite well in many kinds of conditions, for the price I'd be hard pressed to ask for more. I just don't get people's hang ups about the 'quality' of the still photo shooting. This is NOT an SLR, but for a video camera it's more than suffice. The smile setting can even be set to automatically take a photo if someone in focus is smiling (really? we've come that far where you don't even have to push the button!) that right there should have you sold!
Oh yeah did I mention it has a mic input? (something the HSC250 didn't have!) This is very necessary to bring your projects up to that next level where you capture quality audio. The lack of the headphone jack keeps this boy on the cusp of the major leagues, can't have it all right?
3D?!?!?! I don't have a 3Dtv (yet) so I haven't splurged on the optional whopping 3D lens (VW-CLT1 which is about as big as the camera itself!) but that bad boy looks like a beast and trust if/when I cop a display capable of the 3rd dimension I will be getting it and shooting some fantastic water bursting out of faucets!!!

Ease of Use
Flip the LCD panel out and push the button and aim at what you want to record. Yep it's that easy! But if you want to get all into the nitty and gritty, the SD90 offers a host of pre-sets and some even allow you to get all into it with manual controls like white balance (VERY IMPORTANT FOLKS). This camera features a lot of bells and whistles and it pays to spend some time with the manual and testing what its capable of before going out to make real magic. The first rule of Tech Club? KNOW THY EQUIPMENT. If you are going to invest more than $100 on something at least do yourself the favor of knowing where it's outer limits of functionality lies. "Only then will you have reached the final level" and know when its time for an upgrade 😉
David Says
David Says – "My gut was right! Panasonic still shines in the video camera department and you will be extremely pleased with this mid-range purchase. I got my SD90 at B&H Photo in NYC who consistently have great prices, but if you find this out there lower than MSRP of $549 think of yourself as getting a steal. If you are looking to make an indie film or anything of that ilk you will need to invest a bit more into your camera. If you are a weekend warrior and want to get some good footage of a skate trick or pick up game or lil Aiden's first steps then this is the cam for you. The lower end $150 cameras will give you frustrations that often have you saying "I wish it could do x", you won't get that here. What you'll get is, "I can't believe all that came out of this little thing."